Before we get into our point of view on what is sales enablement automation, let's establish why you should care about sales enablement automation and why you should read through this post.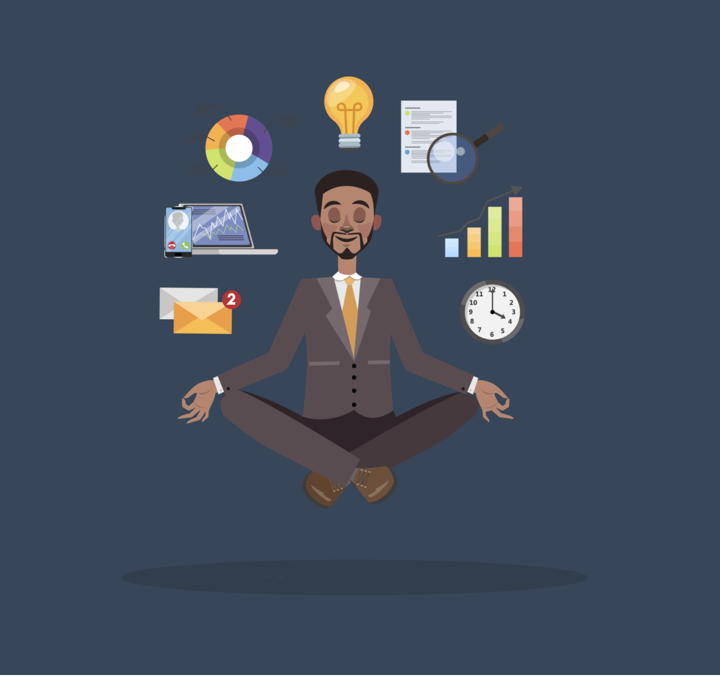 Good sales enablement automation will help you convert more leads into revenue. However, the most important value of sales enablement automation, if implement right, is that it will help you convert more prospects into revenue WITHOUT adding admin or manual work to your team's workdays.  
Actually, it might even decrease their admin work and save them time. There's an important factor to consider for it to work, though, which I'll explain later in the article👇
Below, you'll find: 
Need a refresher on what sales enablement is? Read last week's article!
What is sales enablement automation? 
The goal of sales enablement automation is to handle manuals admin tasks done by sales teams throughout their day so they can focus on the resources provided by sales enablement solutions and spend more time engaging with customers to generate revenue. 
Examples of manual admin tasks include searching through emails for recent interactions with prospects, logging data into the CRM, following up with prospects, writing notes, etc. Those are all activities that are needed but take time away from engaging with prospects. 
In case that you don't remember what sales enablement is? Here's the definition by HubSpot:
Sales enablement is the iterative process of providing your business's sales team with the resources they need to close more deals. These resources may include content, tools, knowledge, and information to effectively sell your product or service to customers.
Where does sales enablement automation fit in your marketing/tech stack? 
The main applications of sales enablement automation come from improving communication across marketing and sales teams and between sales teams and their prospects. 
So we often see tools integrating with both the marketing and sales stack. But mainly supporting the sales funnel from the first engagement with a prospect to closed revenue. 
Concretely, your sales enablement tools should integrate with at least your customer communication channels and your CRM. Even better if you throw in your marketing tools too. 
Sales enablement automation benefits and why they're important.
🤜🤛
The handoff between marketing - sales and sales - success. Increasing visibility to close and retain customers. 
The more visibility your salespeople have on how the prospect has been engaging with your brand, the higher their chances of closing that prospect. 
Likewise, the more visibility your account managers or customer success representatives have on sales activities and product usage, for example, the more likely you are to retain that customer easily and upsell them. 
🙎
Large audience versus targeted and personalized 
The main difference between sales enablement automation and marketing automation is that sales enablement automation helps reps more efficiently manage 1-to-1 relationships, while marketing automation will facilitate communication with a wide range of leads at the same time. 
Good sales enablement automation tools will help your teams handle 1-to-1 relationships at scale, without hours of manual work. 
🎯
The right engagement, with the right content, to the right prospect 
Part of a sales process is knowing what to communicate to leads. What content to share with them, what will get them to the next step in the sales funnel. 
Great sales enablement automation can suggest content based on information found online about your lead, interactions happening with your deals, etc. 
🧘
Augmenting the sales rep workflow without communicating automatically 
That's one of the most important added values of good sales enablement practices. More on how sales enablement can help sales reps here. 
Enablement automation is the ideal subset of sales enablement for a reps' workflow. Good enablement automation will point the rep in the right direction. 
Like a cooking recipe. But without cooking (communicating with the prospect) for you. Based on what's happening, good enablement automation can uncover customer insights, log activities for you, tell you which prospects should hear from you, etc. Information that would normally take too long for you to find. 
⚡
Handling as many admin tasks as possible to give more time for prospect engagements
To follow-up on the last section, sales enablement automation has the power to uncover insights that would require too much work to find, but can also simply handle a lot of manual tasks that take time away from your customer engagements and revenue-generating activities. 
Examples? Finding an email, finding a note, logging a meeting in the CRM, sharing a document edit with a colleague, letting you know when a lead opened your content, pinging you when it's been too long since you've engaged leads, and much more.  
😎
Handling sales in a product-led strategy 
Product-led is all about delivering value to leads before asking for financial commitments. And using the product itself as the main driver for customer acquisitions. 
How does it affect the sales process? How can sales reps in product-led businesses engage with leads in order to boost conversion to paying and retain more customers? 
Sales enablement automation solutions have a unique value proposition for product-led organizations. 
It can combine both communications with leads and product usage data to provide reps with visibility and suggestions to engage with free users at the right time to convert them or retain them. 
More on sales & product-led strategies in next week's article! 
Tools that we recommend to start your sales enablement automation strategy. 
In last week's article, we gave a list of over 30 sales enablement tools for you to boost your workflows. And shared our favourite stack for startups & SMBs :)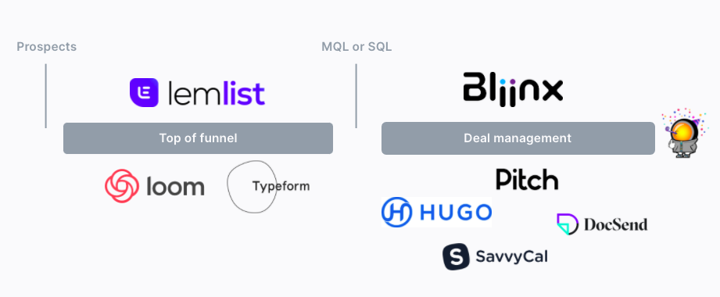 In terms of automation applications to sales enablement processes, here are a few picks worth evaluating for your business: 
Bliinx (view why below 👇), DocSend, Typeform, SavvyCal, Salesflare, Growbots, Yesware, Mixmax, prospect.io & Hubspot automation. 
Another great idea is to combine your favourite sales enablement tools and add automation with API solutions like Tray.io, PieSync, Clearbit, Automate.io, Zapier, etc. 
How Bliinx helps account executives and account managers close more revenue and save time every day.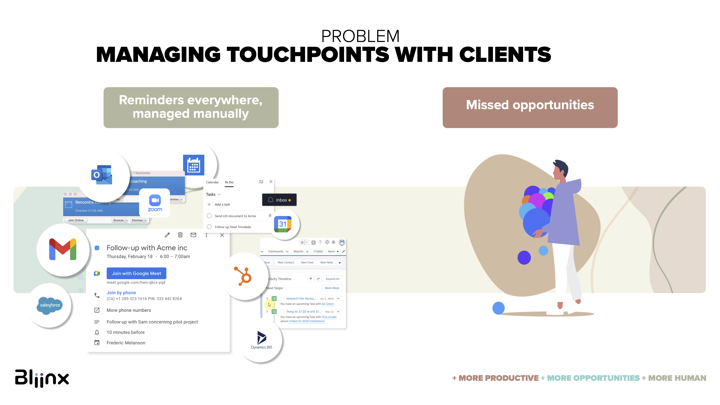 I (Fred) was tired of wasting time searching across emails, recent meetings, LinkedIn, Slack and my CRM to set my priorities, get up to speed on my opportunities and know who to engage with. I was wasting hours every week. 
Plus, doing that with 30+ opportunities at the same time meant leaving money on the table because I would forget stuff. 
Deals would fall through the cracks because I sent a LinkedIn message to someone and forgot to follow-up a second time, I would have a meeting with someone and forget about it when the lead would not answer my first email, I would forget that I hadn't talked with anyone at one my accounts for 2 weeks. 
So we've built a sales enablement automation tool to fix it.
To help sales reps: 
Save time when they want visibility on deals
Save time managing manual follow-ups with leads 
Increase their pipeline close rates by avoiding dropped balls. 
What our tool does: Bliinx sits into your communication tools and your CRM. The app pings you in your workflow when it finds blind spots in your deal relationships. You can snooze those blind spot reminders for later, gain full visibility on your latest interactions (without having to log them) or engage with leads right away.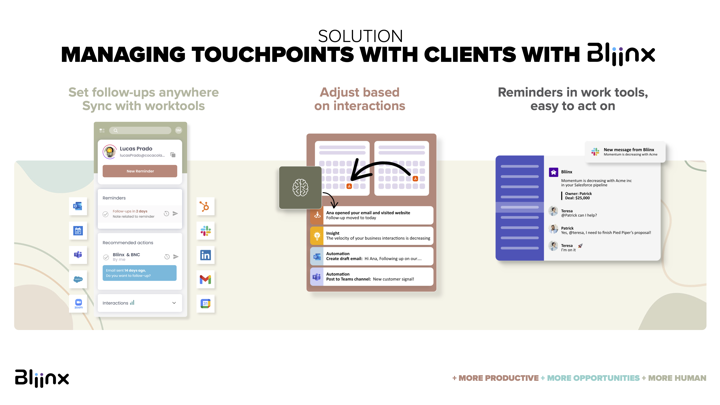 This way, you don't drop any balls or spend hours scanning your inbox, calendar, CRM and LinkedIn 💰🚀!
We're currently in limited free beta, try our sales assistant for Outlook here or sign up for our sales assistant on Gmail!